GET INVOLVED – JOIN THE fight against aging & disease!
JOIN OUR collaborator community
​We work with health maintenance organizations, at-risk providers, hospitals, private medical care and medi-share practices, primary care physicians, clinic groups, wellness centers, universities, stem cell clinics and scientists, and other non-profit research groups interested in collaborating with us on the study of Heterochronic Plasma Exchange (HPE) and its effects on mitigating or reversing cellular senescence (aging).

We also welcome inquiries from insurance providers, at-risk providers, and private medical clubs interested in exploring the cost benefits of HPE as a preventative treatment therapy.

If you're interested in collaborating with us, please email: collaboration@youngbloodinstitute.org
Sponsor patient studIEs
While we have long-term goals to make Heterochronic Plasma Exchange and its derivatives affordable to most people, typical insurers currently only cover
limited indications for plasmapheresis
, primarily related to autoimmune disease. While the potential life improving effects might be considered extremely promising and priceless, the cost-benefits and comprehensive data have yet to be documented for the broad swath of age-related conditions.
​
Heterochronic Plasma Exchange p
atient studies
require staff, doctors, apheresis equipment, clinic space, and blood tests, as well as support staff and administration. You can help by supporting one or many patient studies.
​
Please contact us for details: patientstudies@youngbloodinstitute.org
Help us raise funds
We welcome self-starters and advocates who want to help our
cause, as well as their own friends, family, and the rest of humanity who might benefit from our preventative treatment therapies. Please email:
collaboration@youngbloodinstitute.org
DONATE TO SUPPORT OUR RESEARCH​
We operate as a 501(c)(3) non-profit corporation, so donors can deduct contributions they make to us under the Internal Revenue Code (IRC) Section 170 (public charity). We can also receive tax-deductible bequests, devises, transfers, or gifts under Sections 2055, 2106, and 2522 under the IRC. N
o contribution is too small or too large.
Mail a check to:
Young Blood Institute
531 Lasuen Mall
P.O. Box 20181
Stanford, CA 94039-0181
​Click the button below to donate via PayPal
Become a volunteer STUDy subject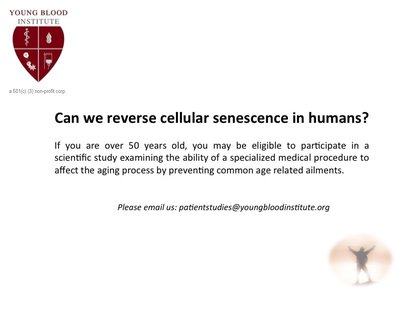 ​As a non-profit corporation, our ability to conduct procedures with volunteer study subjects depends upon donations and grants to support our research.

For further information regarding timing, availability, and scheduling, please email patientstudies@youngbloodinstitute.org
​
---
Volunteer
We can use any and all help available! If you're interested in making any kind of contribution at all, please let us know by filling out the form below:

---
---
Careers
​Whether you're an experienced medical practitioner, or interested in making a career transition, join us at the forefront of modern medicine. Contact us by email: careers@youngbloodinstitute.org